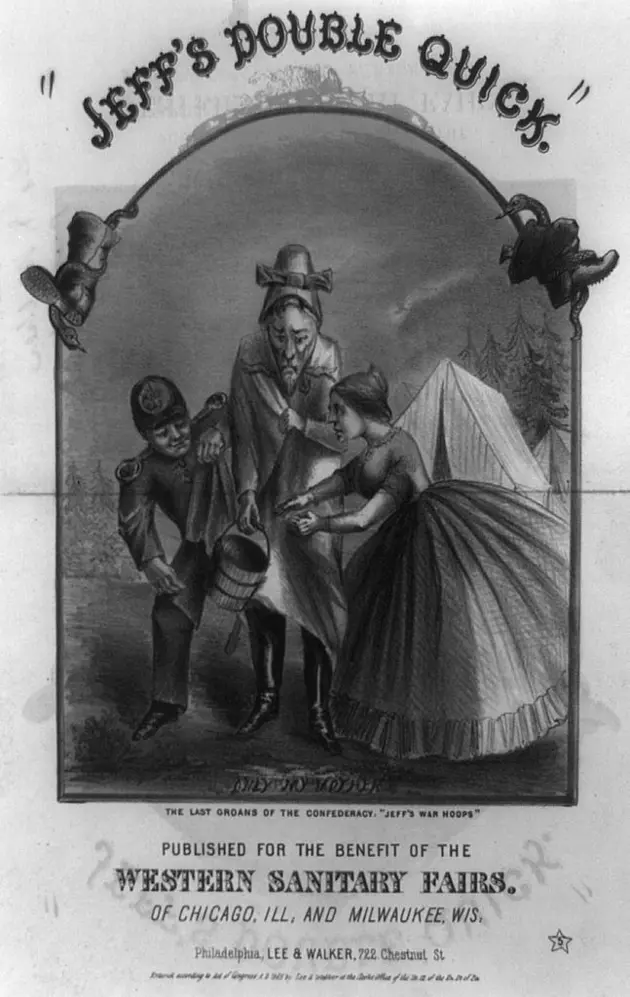 Benjamin Pritchard – the Michigan Solider at the Heart of the Curse of Civil War Gold
Lee & Walker via Library of Congress
Pritchard was a lawyer and teacher in Allegan schools at the outbreak of the Civil War. He rises to the rank of Lieutenant Colonel and takes command of the 4th Michigan.
The Capture of Jefferson Davis and the Stolen Gold Legend
Tracking the crumbling Confederate leadership, it was
One of Pritchard's officers, Corp. George Munger (of Allegan, Michigan), soon discovered the Confederate president's encampment. He noticed two women moving rapidly away from the camp as the 4th Michigan approached and thought they looked suspicious, so he stopped them and asked that they remove their cloaks. Upon so doing, it was revealed that the two "women" were Jefferson Davis and his wife, both wearing women's cloaks and shawls trying to escape capture.
Library of Congress
Both images in this article are from 1865 and depict Pritchard's unit capturing Jefferson Davis. Because he was captured in women's clothing, the incident was much mocked in northern media, including this illustration, the Chas-ed "Old Lady" of the CSA - the pun being a play in the words chased and chaste.
Confederate president Jefferson Davis's capture by Union cavalry on May 10, 1865, while allegedly fleeing in women's clothing, inspired a rash of prints exploiting the tale's comic possibilities. According to Davis's autobiography, at the time of his capture he was wearing his wife's raglan overcoat, which he had mistakenly put on in his haste to leave, and a shawl, which his wife had thrown over his head and shoulders. The Northern press made the most of his "last shift," transforming the shawl to a bonnet, and sometimes even portraying Davis wearing a hoopskirt and full female dress. Since Davis had apparently tried to escape casually with a black servant carrying water, he was often pictured carrying a water bucket. Another detail added by the cartoonists was a Bowie knife. Here the artist shows a camp in the woods where Davis, wearing a dress, shawl, and bonnet, and carrying a water bucket labeled "Mom Davis" and a Bowie knife, is accosted by Union soldiers. One Union soldier (center) lifts Davis's skirt with his saber mocking, "Well, "old mother," boots and whiskers hardly belong to a high-toned Southern lady." Davis implores, "I only wish to be let alone." At right another soldier, speaking in a Germanic accent, says, "Mein Gott, ter "olt mutter" vears ter pig gavalrie poots! . . . " He may be intended to represent the Norwegian-born tanner who first spotted Davis. The soldier at left exclaims, "Jerusalem! her "old Mother," hey! Its ld "Leach'" in petticoats--That's so." Behind Davis a woman warns, "Do not provoke t̀he President,' he might hurt some one." A black youth, presumably Davis's servant, looks on, exclaiming, "Golly Marse Yank, de old Missus is "done gone" shu-ah! . . ." At far right a waiting Confederate carriage containing barrels of "Whiskey" and "Stolen Gold" is visible.
Just over two months after the April capture of Davis, the 4th Michigan is mustered out of service and the legend of the Confederate Gold begins.
Pritchard Returns to Allegan + Following the Money
Lt. Colonel Benjamin Pritchard returns to Allegan a war hero. His was asked to run for governor of Michigan and a seat in Congress, service he declined, preferring to stay in Allegan. He did serve on the local school board.
If you're following the money, the suspected stolen gold, then it might be a coincidence that Pirtchard did serve two terms as Michigan's State Treasurer. He also founded two banks in Allegan, The First National Bank of Allegan and the First State Bank, noted for being
the first bank in the county to be anointed as a state depository. It was also the first savings bank, offering 4% interest to depositors, and the first bank to install safety deposit boxes.
Pritchard died in 1907 and is buried in Allegan's Oakwood Cemetery.
BONUS VIDEO - Allegan's Waterfront and Historic Second Street Bridge