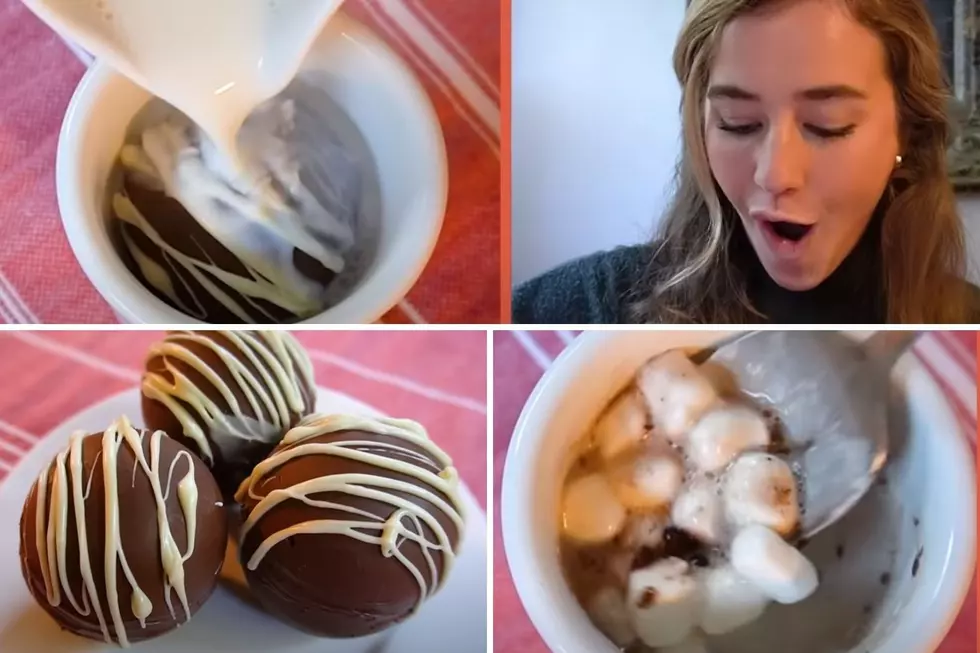 Hot Chocolate Bombs Are the Bomb- Where to Get One in Kalamazoo
Allrecipes via YouTube
The holidays warm the heart and this drink will warm your insides. Hot chocolate bombs are everything right now. Try one at these 4 spots in the Kalamazoo area.
Hot! Hot!
Ooh, we got it!
Hot! Hot!
Hey, we got it!
Hot! Hot!
Say, we got it!
Hot chocolate!
Hot chocolate was a hit with the passengers on the Polar Express, and you will love this concept that takes it to the next level. This is exponentially better than just syrup or powder mixed with milk. Think of a hollow chocolate sphere filled with cocoa mix and mini-marshmallows. Imagine dropping it into a mug, then adding hot milk or coffee. Then, watch in amazement as the outer shell melts and the bomb explodes into a delicious winter beverage.
Hot chocolate bombs are everything right now. You can follow the tutorial in the video at the bottom of the page and make your own at home or stop into one of these four Kalamazoo area shops to try the latest libation.
Cherri's Chocol'art | 101 S Kalamazoo Mall, Kalamazoo
Cherri owned a fine arts gallery for over 30 years, and has turned her passion for chocolate into a business. Remember the Fat Elvis Shake?
Choclatea | 7642 S Westnedge, Portage
Since 2008, they've been pouring tea, coffee and espresso drinks. Are you wanting more than a hot chocolate bomb? Try their 12 Days of Drinks.
The Garden Griddle | 217 E Michigan, Paw Paw
Farm to table food made from scratch means they know what to pair with it for a beverage. Even the marshmallows are homemade here.
Schultz's Treat Street | 3023 Oakland Dr, Kalamazoo
The new owners of this iconic hot dog and ice cream spot are trying some delicious new things like hot cranberry tea and hot chocolate bombs in several flavors.
So, get to one of these cafés and try the trendiest drink around, or follow the video below and make your own hot chocolate bombs at home.
Enter your number to get our free mobile app
TOP 10: The best holiday TV specials of all time, ranked